"Traumatic" – Martine Thompson's Rejection Texts 
Mary Catherine Lawler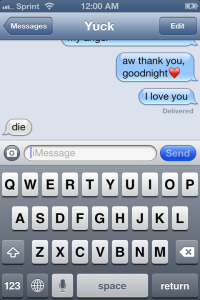 Martine Thompson self-describes as "a miserable but willing passenger" in relationships. Her work, a series of screen caps of dismissive texts from men entitled "Traumatic", looks at the casualness of relationships and the casualness of communication via technology. Texts, so fleeting and yet so permanent – archived not only mentally, but also in digital text form – can be downloaded, printed, and, as in the Tyler Clementi court case, used in court as evidence (in that case, it was a text projected on to a wall screen).
The above screenshot, captioned "unrequited love or whatever", gives us a glimpse into the colloquial nature of her attitude and the tenuous connection between her and this guy.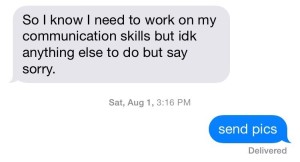 Caption: "A lot of shit happened. His emotional ineptitude paired with our sexual compatibility made for a confusing predicament. I kinda despise him but have sporadically sent hateful and/or flirty messages through various platforms (to no avail) all summer"
The lack of effort put into these relationships is mirrored by the lack of effort in language. Proper punctuation is left out, spelling errors not proofread, and capitalization is out, while colloquial terms are favored. While all this is obvious in personal internet communication, its presence amplifies the disturbing lack of authentic engagement between Thompson and her romantic attachments. The option to be in touch online has the potential to trivialize communication through its instant and accelerated form, but also makes it harder to disconnect upon breakup for Thompson, among others, as she mentions that "[t]he worst part was how long I stayed involved with him, and then how long I pined over him and cyber stalked him", the digital one-sided interfacing playing a role in prolonging her anguish over the end to a relationship.
"More than anything, I hope it reminds girls to love themselves endlessly and rid their lives of garbage people."