Awkward Politics: Technologies of Popfeminist Activism
Carrie Smith and Maria Stehle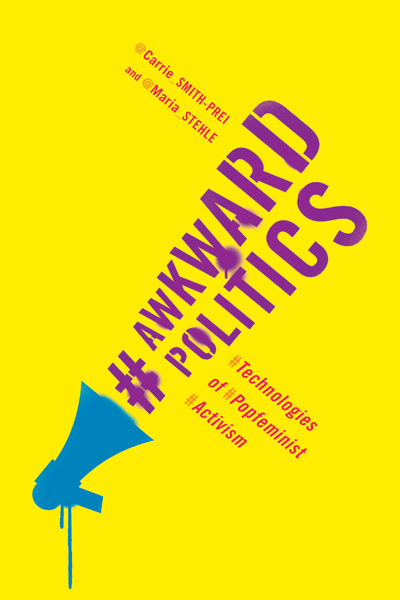 Book available here
Digital technology's transnational reach and temporal immediacy has broadened the potential impact of feminist activism, but when it comes to body politics it has also complicated the materiality of feminist work and muddied the line between engagement with and consumption of activist actions. Our book harnesses this confusion in an exploration of the awkward politics that such activism produces. Awkwardness is a political emotion that offers a way of engaging with the transnational circulation of feminist activism today that accounts for and harnesses the messy conveyance of meaning as the digital meet the material. We examine contemporary German popfeminist performances (both transnationally and locally situated) that leverage the explicitly sexualized female body for political action, provocative reception, and commercial success. These performances often question any discursive frameworks that might easily (historically, politically, theoretically) explain their political implications. In their awkwardness, they embrace the ambivalence of effectiveness in feminist creative work that refuses clear meaning-making while nevertheless insisting that their position is intentionally, if ambivalently, political. Thus we suggest that theorizing the awkward can get at the complicated meanings and unstable positions of the political in popfeminist work.
---
Special Issue
Digital Feminisms:  Transnational Activism and Protest Cultures of Germany. Spec. issue of Feminist Media Studies. London: Routledge, 2015.
Edited by Carrie Smith, Christina Scharff, and Maria Stehle
The relative rise or decline of feminist movements across the globe has been debated by feminist scholars and activists for a long time. In recent years, however, these debates have gained renewed momentum. Rapid technological change and increased use of digital media have raised questions about how digital technologies change, influence, and shape feminist politics. These questions are particularly pertinent in the context of transnational flows of feminist ideas, politics and protesters, giving rise to a range of research questions: How do local centers for feminist political activism engage with the digital transfer of transnational protest movements, and how has this incorporation changed local activism? How does feminist activism travel and translate in the age of digital proliferation? How do other, often nationally inflected art forms such as literature, film, and theater engage in the notion of digital protest? And does feminist activism have the potential to transform discourses around the digital economy, equity, and democracy, such as those related to open access This special issue interrogates the digital interface of transnational protest movements and local activism in feminist politics. Examining how global feminist politics is articulated at the nexus of the transnational/national, we take contemporary German protest culture as a case study for the manner in which transnational feminist activism intersects with the national configuration of feminist political work. The special issue will explore how movements and actions from outside Germany's borders circulate digitally and resonate differently in new local contexts, and further, how these border-crossings transform grass-roots activism as it goes digital.
---
Articles
Baer, Hester, Carrie Smith, and Maria Stehle. "Digital Feminisms Beyond the Waves: Disappearance and Delay in an Age of Neoliberal Circularity." On 24/7: Neoliberalism and the Undoing of Time. Spec. issue of Studies in Twentieth & Twenty-First Century Literature. Forthcoming 2016.
Smith, Carrie and Maria Stehle. "The Awkward Politics of Popfeminist Literary Events: Helene Hegemann, Charlotte Roche, and Lady Bitch Ray." German Women's Writing in the Twenty-First Century. Eds. Hester Baer and Alexandra Merley Hill. NY: Camden House, 2015.
Smith, Carrie and Maria Stehle. "WiG-Trouble: Awkwardness and Feminist Politics." Women in German Yearbook 30 (2014): 209–24.
Smith, Carrie and Maria Stehle. "Awkwardness als Provokation: Gedankenspiele zu Popfeminismus, Körperpolitik und der Vermarktung literarischer Frauen [Awkwardness as Provocation: Thoughts about Popfeminism, Body Politics, and the Marketing of Literary Women]." Fiktionen und Realitäten [Fictions and Realities]. Inter Lit 13. Eds. Marion Schulz and Brigitte Jirku. Frankfurt/Main: Peter Lang, 2013. 215–30.