One Year Later / Charleston Strong
Mary Catherine Lawler
Being in Charleston one year after the shooting at the A.M.E. Church has been surreal in that superficially everything runs business as usual, but traces of memorialization are visually present throughout the city (and a remembrance ceremony and a memorial concert across from A.M.E. are scheduled for tonight).
Symbols of the slogan "Charleston Strong" appear throughout the city – nine doves – for the Charleston 9 shot dead last year – form a white palmetto tree against a dark blue rectangle, a clear parallel to the South Carolina state flag.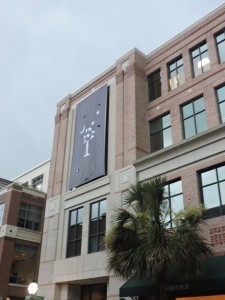 While brunching at Toast on Meeting Street, I noticed a staff member wearing the same design on the back of his Charleston dark blue t-shirt. Little and big signs like this in the big little city seemed to point to a universal cognizance and recognition of the tragedy in an everyday manner.
In returning from Fort Sumter, however, I saw the larger scale and passed through the affective borders of the space in front of the Mother Emanuel A.M.E. Church on Calhoun – a plethora of flowers accumulated at the foot of the church's steps, sweetgrass crosses woven and attached to the wrought-iron gates, dark blue and white flag displayed.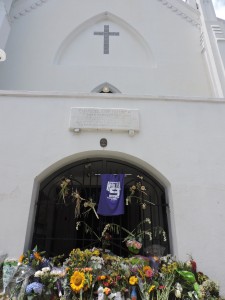 Two white men stood holding a printed banner with the Charleston 9's photos and names – the banner read "say their names" / "Charleston 9" / "never forget" – while black congregation members sharply dressed gathered nearby. Across the street, setup for an evening concert in memory of the nine had begun, white ribbons fixed to white chairs, speakers plugged in and tested.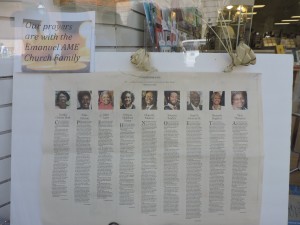 Even on the highly commercial King Street, known for mid- to upscale shopping, a shop window featured posterboard backing a newspaper cutout of the Charleston 9, adorned with sweetgrass roses and partially framed with a notice that prayers were with the A.M.E. Church.
While it's unnerving to walk through a "nice neighborhood" like the one in which the A.M.E. Church is located and think that someone could walk by with a weapon and into a church full of people like those next to you on the street, at the same time it felt good to see both black and white members of the community expressing solidarity in Charleston identity. Much work must still be done in terms of gun laws in the U.S.; perhaps Charleston can be a source not only of race discourse, but also of gun violence going forward.
Here the Charleston City Paper article – "Mother Emanuel: One Year Later".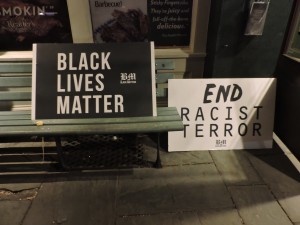 Signing off from the Holy City.