#askeljames or, Q & A and literary antifeminism
Mary Catherine Lawler
EL James, author of Fifty Shades of Grey, was catapulted to success by the incendiary interest in her triptych of Twilight fanfic qua BDSM fantasy. The BDSM community was understandably upset by James' lack of respect for mutual boundaries, safety, and caution, while (wo)men* everywhere wondered how a thinly veiled abusive relationship could pass for romantic (as long as he's rich and hung, he can hit me, stalk me, and isolate me?).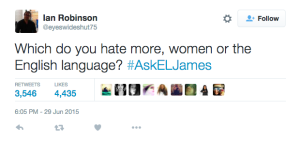 James' dead horse-tired plot of a virgin (of course, the female protagonist) meeting a dangerous and sexually experienced man who introduces her to technology (wow, a laptop!), patriarchal condescension (he acts without permission both in and out of the bedroom), money (sex for things – prostitution?), and, of course, sex, is only marginally better than Stephanie Meyer's lackluster Twilight, featuring paper-thin character Bella (no talents, no interests – a canvas for YOU!). At least main character Anastasia Steele (a shade of grey, get it?) can do something – write. She's an English major and does land a notable publishing job post-graduation, although hubby-to-be Christian Grey then buys out the company "to keep an eye on her".
Readers (presumably) chimed in during Twitter's Q & A , asking sarcastic advice and rhetorical questions, referencing allusions to Meyer's Twilight, and pointing out how poorly the event itself went (not as predicted, to be sure).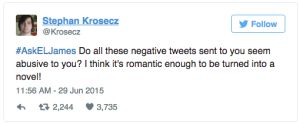 One Twitter-literature user posted a reference to George RR Martin's Game of Thrones' character Ramsey Bolton, a sadist and sociopath, linking EL James and Fifty Shades of Grey to larger literary culture, but at the same time underscoring the unquestionably negative drive of character Christian.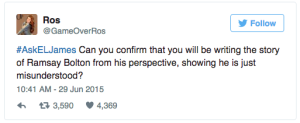 The ironic tone in these posts point to the clarity with which readers recognize verbal, physical, and sexual abuse in the poorly written three-book saga.
As we see here, Twitter as an online platform provides both the means to open up a discussion and also the potential for it to go off-direction, veering off course and dragging all skeletons out of the closet. Intent and reaction misalign here as users simultaneously wield humour and critique to express the affective repercussions of simplistic, sexist, gender-normative storylines such as James', and to tell the author that her writing is "fifty shades of fucked up".